Genevieve Chua
From January 2023
Tanjong Pagar Distripark
Blk 39, Building Facade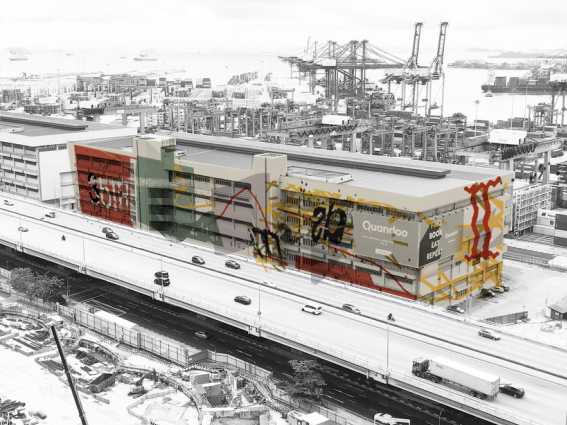 Work-in-progress illustration. Image courtesy of the artist.
In an increasingly algorithmically motivated and automated world, how does one identify a real user among automated users? Are we now automated users ourselves? The CAPTCHA codes plastered across the building may be challenging to read, but when they are eventually verbalised, they ring alongside the humdrum of surrounding traffic – the colliding and skewed letters abuzz with movement of vehicles in and around.
Witness the work-in-progress installation of the mural throughout Singapore Art Week 2023.
Genevieve Chua (born 1984, Singapore) is a painter who works primarily through abstraction. Chua employs a method of working that unfurls and reveals the painter's process through diagram, palimpsest, syntax, and the glitch. While notions of nature and wilderness persist across several works, the form taken by her exhibitions – image, text or object – is disrupted through painting. Selected solo exhibitions include Granular (Singapore, upcoming in 2023); Twofold (Singapore, 2020). Chua's work Artificially Intelligent was shown at Asia Pacific Triennial (Brisbane, 2021). She was conferred the Young Artist Award in 2012 by the National Arts Council, Singapore.